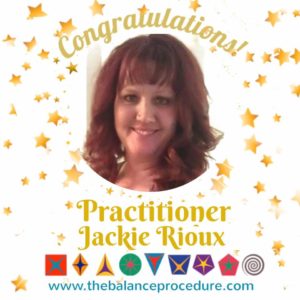 The Balance Procedure is a powerful energy technique, a practical
tool to balance conscious awareness
using your HEART energy and Universal Symbols. Created by Jenny Cox 
Being in Balance ….
For Centuries it has been widely recognised to be in BALANCE with all aspects of your life is the best way to experience emotional and physical well being. Using The Balance Procedure is the quickest and easiest way to accomplish this state. It is an exciting, new way of transforming any limiting emotional patterns you may have learnt and are still playing on an unconscious level. Using The Balance Procedure daily puts you in a relaxed state allowing you to focus on your dreams and desires and see them manifest into reality.
The Balance Procedure is an energy technique that does not require an understanding of theory or precise disciplines but is learnt through practice. Knowing how it works is not as important as doing it. Rather than using the rational, intellectual level of consciousness, it requires the development of flexibility and expansion of consciousness. It is not the procedure itself that bring about the results, it is merely a catalyst, it is the life force working inside each person that brings about the transformation.
************************************
The Balance Procedure is available as an app on your phone and you can also buy the cards and book through the main site, or through me. I keep a few sets on hand for local clients. $30 Canadian for the set. Please Inquire.
http://www.balanceprocedure.com/shop/balance-procedure-cards-book/
Main Site: www.balanceprocedure.com
This is a Facebook group where you can find suggestions on how to use the cards in particular situations: https://www.facebook.com/groups/thebalanceprocedure/
************************************
SURROGATING WITH THE BALANCE
We can surrogate using TBP, because one of the basic fundamentals of TBP is that we create our reality through thought and imagination; understanding this metaphysical concept the external world serves as a mirror which reflects what we think and believe about ourselves and life. Observing the external world this way can show us aspects of ourselves that we can't see directly. We can surrogate when our habits, beliefs and fears have become almost invisible to us that need balancing.
What is surrogating?
You are surrogating when you Balance on yourself when you see or feel imbalances in another person, animal or place, whether or not they are present.
How to Do It?
Once your Universal symbol cards are tuned in to you there is no need to do it again when surrogating and there is no need to ask permission. Balance Check while imagining what you think is needed for who or what needs balancing. If out of Balance – Balance until you are moving forward.
Who and what can you Balance?
Everyone and everything – some examples animals, babies, pain, places, rooms, groups, family and friends who think TBP is silly and rebel against it etc. You will be amazed how you will feel when you observe your results. Remember we are balancing aspects of ourselves that have become invisible to us.
TBP naturally Balances universal fears:
The fear of ill health
The fear of criticism
The fear of loss of love
The fear of poverty
The fear of loss of freedom
The fear of old age
The fear of death
BALANCE PROCEDURE INSTRUCTIONS
First TUNE IN all cards individually using the BALANCE CHECK and BALANCE instructions below:
To TUNE IN take cards from the case and Balance check each card individually.
BALANCE CHECK: Place card on your Balance Centre stand in a relaxed state feet shoulder width apart. If you go forward you are in BALANCE, if you go backwards, sideways or stand still you are out of Balance.
To BALANCE: hold card with both hands on your Balance Centre breathe in and hold for a moment, as you breathe out anchor by saying BALANCE
When all 9 cards are tuned in place back in the case.
DAILY: BALANCE CHECK the pack – BALANCE if needed
SURROGATING: BALANCE CHECK the pack – BALANCE if needed
****************************************************************
Balance Check
The Balance check is not the sway test. The sway test is a yes and no muscle response.  The Balance check gives you mind body feedback. Place the symbol cards with one hand on your Balance Centre:
Forward you are in the flow (relaxed state)
Backwards you are holding yourself back (fight or flight)
Right your mind is being influenced by the past (hereditary or past life)
eft your mind is being influenced by the future (what if's) Staying still you are stuck.
The Balance check is ancient way of divining.
BALANCE Procedure  If you are not in the flow, place all the symbol cards on your balance centre, with two hands (completing electromagnetic circuit) take a deep breath in (your life force – this transforming limiting patterns, thoughts) as you release your breath say BALANCE this is your anchor. Balance check with one hand, repeat until you are in the flow.