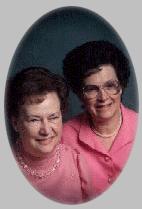 Christine Irene Burnett                     Dorothy Victoria Pettitt
February14,1914 – December 28,1985  |  August 7,1918 – June 5,1989
I'm dedicating all of the following to two very special women in my life: My Grandma and Auntie Dott. These two special people had a major influence on the morals and values that I grew up to believe in. I thank them for that. My most favorite memories of Grandma and Auntie would be doing the newspaper crosswords together, and playing Scrabble on the beach. I always loved the roses that lined the walkway up to grandma's house.
---
Dear Lord…
So far today I am doing all right. I have not gossiped, lost my temper, been greedy, grumpy, nasty, selfish, or self-indulgent. I have not whined, bitched, cursed, or eaten any chocolate. I have not charged my credit card. However, I am going to get out of bed in a few minutes, and I will need a lot more help after that. Amen.
May those who love us, love us
And those that don't love us,
May God turn their hearts;
And if He doesn't turn their hearts
May He turn their ankles
So we'll know them by their limping.
An old Gaelic Blessing
These words hold a message of cheer;
Be glad when repeating them over,
And smile when the shadows appear.
Above and beyond stands the Master
He sees what we do for his sake;
He never will fail or forsake us,
He knoweth the way that we take.
Faith is a force that is greater than knowledge or power or skill, and the darkest defeat turns to triumph if we trust in God's wisdom and will. ~Helen Steiner Rice
'Give us this day our daily bread' is probably the most perfectly constructed and useful sentence ever set down in the English language. ~P.J. Wingate
God speaks in the silence of the heart; listening is the beginning of prayer. ~Mother Theresa
The value of consistent prayer is not that He will hear us, but that we will hear Him. ~William McGill
The Lord's Prayer may be committed to memory quickly, but it is slowly learnt by the heart. ~Frederick Denison Maurice
Our prayers should be for blessings in general, for God knows best what is good for us. ~Socrates
God always answers our prayers, but sometimes the answer is 'no'.
When the outlook is dark, try the uplook.
The man who walks close to God will leave no room for the devil to come between.
Life with Christ is an endless hope; without Him it's a hopeless end.
Let the mind of the Master be the Master of your mind.
God always gives His best to those who leave the choice to Him.
If Christ is the center of our lives, the circumference will take care of itself.
For the Christian, every bush ought to be a burning bush, and all ground ought to be holy ground.
I would rather walk with God in the light, than alone in the dark.
It is far better to serve the Lord, than to wish you had.
Don't make God your last resort, make Him your first Resource!
The true measure of God's love is that He loves without measure.
Peace rules the day only when Christ rules the heart. You can't take it with you, but you can send it on ahead.
Your name must be written in His "Book of Life" before your good deeds are inscribed in His "Book of Remembrance".
When times are at their worst; a Christian should be at his best. Each day is a gift from God, that is why it is called the Present.
To get to heaven, turn right and keep straight.
God is more truly imagined than expressed and He exists more truly than He is imagined.~St. Augustine
Peace rules the day only when Christ rules the heart.
You can't take it with you, but you can send it on ahead.
Your name must be written in His "Book of Life" before your good deeds are inscribed in His "Book of Remembrance".
When times are at their worst; a Christian should be at his best.
Each day is a gift from God, that is why it is called the Present.
To get to heaven, turn right and keep straight. God is more truly imagined than expressed and He exists more truly than He is imagined.~St. Augustine
Oh, that my tongue might so possess
The accents of His tenderness,
That every word I breathe should bless.
For those who mourn, a word of cheer;
A word of hope for those who fear;
And love to all men near and far.
Oh, that it might be said of me,
Surely thy speech betrayeth thee,
A friend of Christ of Galilee.
I sought my soul
But my soul I could not see.
I sought my God
But my God eluded me.
I sought my brother
And I found all three.
God give me sympathy and sense,
And help me keep my courage high;
God, give me calm and confidence,
And, please, a twinkle in my eye. ~Margaret Bailey
The mathematics of sin: Sin multiplies until it is out of control. Sin divides families, friends, and even churches. Sin adds heartache, grief, worry, and fear. Sin subtracts your name from the Lamb's Book of Life. ~Bob Jeffreys
Rules for today:
Do nothing that you would not like to be doing when Jesus comes.
Go to no place where you would not like to be found when Jesus comes.
Say nothing that you would not like to be saying when Jesus comes.
What I can do, plus what God can do, equals enough.
Christianity helps us face the music even when we don't like the tune.
Too many church members have been starched and ironed, but never washed. ~Doris Hugh
RX for Christians—Prevent truth decay Read your Bible every day.
Christ died for all men—not just the ones you know and like.
Man sees the deed, but God knows the intention. ~Thomas A.Kempis
Think twice—In Noah's day, "everybody else was doing it", but everybody except Noah was wrong.
Jesus never has office hours, nor does he impose a secretary between himself and His clients. ~Merlin N.Steen
The "Finger" that points the way is part of the "Hand" that supplies the need. ~Lilian Petry
Our goal should be God's "well done", not the world's congratulations. ~Merlin N.Steen Prism Blessings.
When God puts a tear in your eye, it's because he wants to put a rainbow in your heart. ~Henry Shaffer
God answers our prayers by giving what we would have asked for if we had known what he knows.
There are two kinds of leaders: those interested in the fleece and those interested in the flock.
If you hem your morning with prayer, you are not so likely to come unraveled as the day wears on. ~Naomi Johnson
Saying "yes" to God means saying "no" to things which offend His holiness. ~A. Morgan Derham
Man calls the light "sun". God calls the Light "Son".
What God forgives, man had better leave alone.
The world says, "Show me and I'll believe." Christ says, "Believe Me and I'll show you".
Don't expect God to change things to suit you unless you are willing to let Him change you to suit Him.
Religion is like a bicycle, when it stops going it falls over.
The church is not a museum for finished products, it is a hospital for the sick. ~Bruce Larson
The preaching of Noah was in the sound of his hammer.
ESP: Extra Spiritual Power Prayer is to the soul what breath is to the body.
When we walk toward Jesus, we walk into the light. When we walk away from Him, we walk into the dark. ~G. Dean Barret
An atheist is a man who looks through a telescope and tries to explain all he cannot see.
Every Christian occupies some kind of pulpit and preaches some kind of sermon every day.
If your light is shining for Jesus, God will put it where it can be seen.
Strange that in prayer we often ask for a change in circumstance rather than in our character.
The church is like a bank—what you put into it causes your interest to grow.
Many Christians are half-full cups trying to run over.
God kneads us so we will need Him.
The Bible is the only book whose Author is always present when one reads it.
A man can't stumble when he's on his knees.
If God believed in today's permissiveness, He would have given us the Ten Suggestions.
To the Master Gardener:
I am like a garden, Lord. A garden filled with weeds. Gently with Your loving hands, plant in me the seeds of love and joy and kindness, of faith and hope and trust. Pull out the choking weeds of self, and those of pride and lust. With Your Spirit water me, till I have life anew, so all who see this well worked ground will know it's kept by You. ~Janet Garibaldi
The bent knee is more powerful than the sharp tongue.
When God locks a door, don't try to get in through a window.
Satan's greatest weapons are his half-truths.
An atheist is an unbeliever who prefers to raise his kids in a Christian community.
To sorrow is neither weakness nor sin, but sooner or later, God expects us to arise and carry on.
God-given talent should be given back to God. Christians have what the world needs, but do we live so they want what we have?
A Bible that is falling apart usually belongs to someone who is not.
He who spends time on his knees has no trouble standing on his feet.
God lifts up none but the forsaken, makes none healthy but the sick, gives sight to none but the blind, saves none but the sinners.
God says, "My child, that's no pit you're in. It's a tunnel. Get up. Keep walking. I'm with you. Soon you will see the light again! Just believe. No storm will overcome you. This is My promise to you."
The hottest places in hell are reserved for those who, in times of great moral crisis, maintain their neutrality. ~Dante
*THE FOUR BLESSED LOOKS*
Look back and Thank God. Look forward and Trust God. Look around and Serve God. Look within and Find God!" "I asked God, 'How do I get the best out of life?' God said, 'Face your past without regrets. Handle your present with confidence. Prepare for the future without fear!'" "Without God, our week is: Mournday, Tearsday, Wasteday, Thirstday, Fightday, Shatterday and Sinday. So, allow Him to be with you every day!"
Don't let yesterday take up too much of today. Will Rogers
Mary's Lamb Got Suspended
Mary had a little Lamb, His fleece was white as snow. And everywhere that Mary went, The Lamb was sure to go. He followed her to school each day, T'wasn't even in the rule. It made the children laugh and play, To have a Lamb at school. And then the rules all changed one day, Illegal it became; To bring the Lamb of God to school, Or even speak His Name! Every day got worse and worse, And days turned into years. Instead of hearing children laugh, We heard gun shots and tears. What must we do to stop the crime, That's in our schools today? Let's let the Lamb come back to school, And teach our kids to pray! It is said that 86% of Canadian, American & British people believe in God. Why don't we just tell the other 14% to be quiet and sit down???? God Bless you
If God had a refrigerator, your picture would be on it. If He had a wallet, your photo would be in it. He sends you flowers every spring. He sends you a sunrise every morning. God didn't promise days without pain, laughter without sorrow, sun without rain, but He did promise strength for the day, comfort for the tears, and light for the way. If God brings you to it, He will bring you through it.
"A Woman" This is written in the Hebrew Talmud, the book where all of the sayings and preaching of Rabbis are conserved over time. It says: "Be very careful if you make a woman cry, because God counts her tears. The woman came out of a man's rib. Not from his feet to be walked on. Not from his head to be superior, but from the side to be equal. Under the arm to be protected, and next to the heart to be loved."
This is an eye opener; some probably never thought nor looked at Psalm 23 in this way, even though they say it over and over again. Psalm 23…….. The Lord is my Shepherd That's Relationship! I shall not want That's Supply! He maketh me to lie down in green pastures That's Rest! He leadeth me beside the still waters That's Refreshment! He restoreth my soul That's Healing! He leadeth me in the paths of righteousness That's Guidance! For His name sake That's Purpose! Yea, though I walk through the valley of the shadow of death That's Testing! I will fear no evil That's Protection! For Thou art with me That's Faithfulness! Thy rod and Thy staff they comfort me That's Discipline! Thou preparest a table before me in the presence of mine enemies That's Hope! Thou annointest my head with oil That's Consecration! My cup runneth over That's Abundance! Surely goodness and mercy shall follow me all the days of my life That's Blessing! And I will dwell in the house of the Lord That's Security! Forever That's Eternity! Face it, the Lord is crazy about you. I thought this was pretty special, just like YOU!!! What is most valuable, is not what we have in our lives, but WHO we have in our lives!
Everything I need to know about life, I learned from Noah's Ark…
One: Don't miss the boat.
Two: Remember that we are all in the same boat.
Three: Plan ahead. It wasn't raining when Noah built the Ark.
Four : Stay fit. When you're 600 years old, someone may ask you to do something really big.
Five : Don't listen to critics; just get on with the job that needs to be done.
Six: Build your future on high ground.
Seven: For safety's sake, travel in pairs.
Eight: Speed isn't always an advantage. The snails were on board with the cheetahs.
Nine: When you're stressed, float a while.
Ten: Remember, the Ark was built by amateurs; the Titanic by professionals.
Eleven: No matter the storm, when you are with God, there's always a rainbow waiting.
Prayer is one of the best free gifts we receive.
I asked God for water, He gave me an ocean.
I asked God for a flower, He gave me a garden.
I asked for a tree, He gave me a forest.
I asked God for a friend, He gave me all of YOU.
If God brings you to it, He will bring you through it.
Happy moments, praise God.
Difficult moments, seek God.
Quiet moments, worship God
Painful moments, trust God.
Every moment, thank God.
I knelt to pray but not for long, I had too much to do. I had to hurry and get to work For bills would soon be due. So I knelt and said a hurried prayer, And jumped up off my knees. My Christian duty was now done My soul could rest at ease….. All day long I had no time To spread a word of cheer No time to speak of Christ to friends, They'd laugh at me I'd fear. No time, no time, too much to do, That was my constant cry, No time to give to souls in need But at last the time, the time to die. I went before the Lord, I came, I stood with downcast eyes. For in his hands God! Held a book; It was the book of life. God looked into his book and said "Your name I cannot find I once was going to write it down… But never found the time"
There's work to do, deadlines to meet;You've got no time to spare,But as you hurry and scurry-ASAP – ALWAYS SAY A PRAYER In the midst of family chaos,"Quality time" is rare. Do your best; let God do the rest-ASAP – ALWAYS SAY A PRAYER. It may seem like your worries are more than you can bear.Slow down and take a breather-ASAP – ALWAYS SAY A PRAYER God knows how stressful life is; He wants to ease our cares, And He'll respond to all your needs A.S.A.P. – ALWAYS SAY A PRAYER. Prescribed by the Great Physician
A four-year-old was at the pediatrician's office for a check up. As the doctor looked in her ears with an otoscope, he asked, "Do you think I'll find Big Bird in here?" The little girl stayed silent. Next, the doctor took a tongue depressor and looked down her throat. He asked, "Do you think I'll find the Cookie Monster down there?" Again, the little girl was silent. Then the doctor put a stethoscope to her chest. As he listened to her heart beat, he asked, "Do you think I'll hear Barney in there?" "Oh, no!", the little girl replied, "Jesus is in my heart… Barney's on my underpants."
Taken from my Prayer Cards: ** are my faves
**Keep praying, but be thankful that Gods answers are wiser than your prayers. WM Culbertson.
**God never takes anything from his children unless He means to give them something better. George Mueller
God always builds on ruins. M Judy
**God may seem slow, but He's never late. Roy Lessin
God insists that we ask, not because HE needs to know our situation, but because WE need the spiritual discipline of asking. Catherine Marshall
When you don't know what to do — WAIT! God never panics and is never under pressure. Roy Lessin
To be right with God has often meant to be in trouble with men. A. W. Tozer
Everything God does is love– even when we do not understand Him. Basilea Schlink
**Its always easier to say the kind thing to someone than to have to apologize for being unkind. Roy Lessin (I still need to work on this one myself…)
**Usually the area of life of which we are the most defensive in ourselves is the area we are least tolerant of in others and in need of Jesus the most.
When a man is wrapped up in himself he makes a pretty small package.
Only good things come from God's hands. He never gives you more than you can bear. Every burden prepares you for eternity. Basilea Schlink
When God wants to do His great works He trains somebody to be quiet enough and little enough, then he uses that person. Hudson Taylor
Be not angry that you cannot make others as you wish them to be, since you cannot make yourself as you wish to be. Thomas A. Kempis
Your need is so small compared to His ability to meet it.
Those who live in the Lord never see each other for the last time. German proverb.
You have made us for yourself, O Lord, and our heart is restless until it rests in you. St Augustine
He doeth much that loveth much. Thomas A Kempis
God worketh for him that waiteth for Him.
He who knows himself best esteems himself least. H.G.Bohn
**See Jesus in everything and in everything you will find blessing.
He who deliberates fully before taking a step will spend his entire life on one leg. Chinese proverb
**Man weigh your actions but God weighs your intentions. Thomas A Kempis
The greatest fault is to be conscious of none. Thomas Carlyle
Only these two things I know…I am a great sinner and Christ is a great Savior. John Newton
There is no one so far lost that Jesus cannot find him and cannot save him. Andrew Murray
Doing little things with a strong desire to please God makes them really great. St Francis De Sales
He chose the lowly things of this world and the despised things–and the things that are not– to nullify the things that are, so that no one may boast before him. 1 Corinthians 1:28, 29
Praise Him for all that is past. Trust him for all that is to come.
And Satan trembles when he sees the weakest saint upon his knees. William Cowper.
Don't count sheep if you cant sleep. Talk to the Shepherd. P. Frost
The greatness of a mans power is the measure of his surrender. William Booth
** There are large portions of Gods word which we can receive only when we come into the places for which the words were given. J. R. Miller
God, your Father, is greater than your problems. He can solve them all. Put your trust in Him and you will experience this. Basilea Schlink
**God does his deepest work in you when you are in the deepest distress. You see, He loves you too much to let you miss His best.
**Sometimes God says "wait". When He does his intent is always that He would become more precious to you during the waiting than if he had said "yes" immediately.
**The genuineness of our love for others depends on whether or not we really believe Jesus loves them.
If you abide in Jesus, the very thing you wish for will be exactly what He has been waiting to do for you.
How seldom we weigh our neighbor in the same balance with ourselves.
There is just one way to bring up a child and that is to travel that way yourself. Abraham Lincoln
**As sure as ever God puts His children in the furnace he will be in the furnace with them. C. H. Spurgeon
The Lord gets his best soldiers out of the highlands of affliction. C. H. Spurgeon
**When God closes a door, he usually opens a window.
The best way to deal with a poor self image is to be concerned with the image of Jesus being formed within. Roy Lessin
Whoso draws nigh to God one step through doubtings dim, God will advance a mile in blazing light to him.
**God always gives the best to those who leave the choice with Him.
Be patient with yourself and others. There are no shortcuts to spirituality. Growing fruit takes time.
Sin wants to remain unknown, in the darkness. In confession, the light of the Gospel breaks into the darkness and seclusion of the heart. Dietrich Bonhoeffer
Our Heavenly Father is longing to do good things for us. If we arent experiencing His goodness, it is because we really dont believe it. Basilea Schlink
The man who is poor in spirit is the man who has realized that things mean nothing, and God means everything. William Barclay.
We find the Christian life so difficult because we seek for God's blessing while we live in our own will. Andrew Murray
Legend of the Dogwood tree.. For Easter 🙂
Two thousand years ago, few trees in the Middle East were big enough to construct anything. However, one tree was valued above the others for its thick trunk and fine, strong wood.
When the Romans came to rule over Jerusalem, their government used this same timber to build the crosses for executing criminals. A group of workers were assigned to gather wood for the crosses. Before long, every Roman official knew the best wood came from these gatherers of execution wood, so those workers became popular.
One day, the wood gatherers received a special request. An officer of the Roman court came and said, "The King of Jews is to be put to death. Deliver an extra-large cross made from your finest wood." So, a fresh tree was cut from the forest of the trees with thick trunks and fine, strong wood. An extra-tall (and extra-heavy) cross was quickly made and delivered.
Three days after the death of Jesus of Nazereth, the chief wood gatherer got alarming news. "All of our finest trees are withering!" the messenger whispered. The wood gatherer hurried to the forest and saw that it was true.
Several years later, the chief wood gatherer heard that, every spring, many people visited the old forest that had once made his job so easy. Despite his advancing years, he set out to discover why. He saw the remains of forest, now like a salty bottoms, with only a few trees still standing tall, bare, lifeless and rotting.    But what was this? As he drew closer, his feeble eyes could make out the people walking among thousands of beautiful, flowering bushes. Seeing one of his own workers there, the old man said, "No one could ever make a cross out of this twisted wood. Our finest tree has gone to the dogs!" He noticed the beautiful white flowers, each blossom looking as if it had been burned from the touch of a miniature cross.
As told to Ben Baston by his grandmother, Louise Brown.
There Is A Legend: At the time of Crucifixion the dogwood had been the size of the oak and other forest trees. So firm and strong was the tree that it was chosen as the timber for the cross. To be used thus for such a cruel purpose greatly distressed the tree, and Jesus nailed upon it, sensed this.
In His gentle pity for all sorrow and suffering Jesus said to the tree:
" Because of your regret and pity for My suffering, never again shall the dogwood tree grow large enough to be used as a cross. Henceforth it shall be slender and bent and twisted and its blossoms shall be in the form of a cross–two long and two short petals. And in the center of the outer edge of each petal there will be nail prints, brown with rust and stained with red, and in the center of the flower will be a crown of thorns, and all who see it will remember."
The pink dogwood is said to be blushing
for shame because of the cruel purpose
which it served in the Crucifixion.
The weeping dogwood further symbolized the sorrow.
The red dogwood, called the Cherokee, bears the color to remind us of the blood shed by our Savior.